England were left cursing their luck after losing both openers under dark skies in a 20-minute spell that may have altered the course of the first Ashes Test.
Ben Duckett and Zak Crawley fell in successive overs on the third afternoon as they battled fiercely difficult batting conditions and an Australian attack intent on seizing its chance.
The pair had walked out at Edgbaston under thick, dark skies after a 75-minute rain delay and failed to survive a mini-session that saw 22 balls bowled, two runs scored and two wickets fall under the floodlights.
Further downpours spared Ollie Pope and Joe Root, who will resume on 28 for two and attempt to turn a narrow lead of 35 into a match-winning position.
The Dukes ball, which had offered nothing over the first two days, came to life during that brief period, but it took considerable skill from Pat Cummins and Scott Boland to ensure it did not go to waste.
Cummins had Duckett (19) brilliantly taken in the gully, the latest on Cameron Green's production line of outstanding catches, while Crawley (seven) endured a handful of close calls before Boland finally took his outside edge.
Beyond that there were half-a-dozen loud appeals as the ball wobbled through the air and zipped off the pitch, and England will be relieved not to have suffered further losses before the rain returned to bring an early end to proceedings.
Until their struggles in failing light and unsettled overheads, England had enjoyed the best of the day and moved themselves back into a strong position.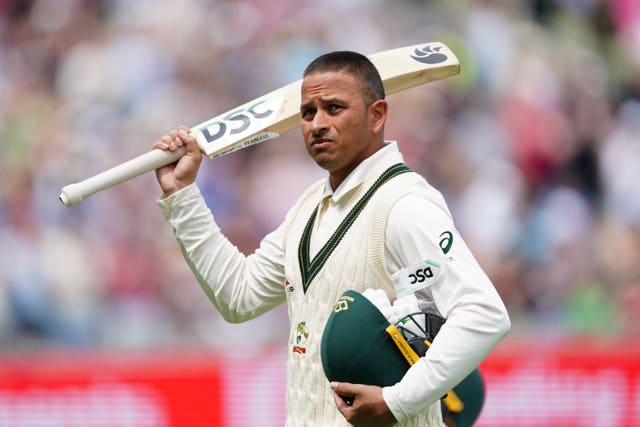 They took Australia's last five wickets for 48, bowling the tourists out for 386 to sneak a slim first innings lead of seven. Ollie Robinson belatedly announced himself in the series, following a wicketless outing on Saturday with three dismissals, with James Anderson and Stuart Broad taking one apiece.
Australia began on 311 for five, 82 behind but seemingly well set with centurion Usman Khawaja at the crease alongside Alex Carey.
Anderson almost parted them with the fourth delivery of the morning when he took Carey's inside edge from round the wicket.
Anderson had already started to celebrate as Jonny Bairstow tumbled low to his right, but watched in dismay as the ball squirmed free from the wicketkeeper's glove.
It was a painful start for Bairstow, who already had a missed stumping against Green and another dropped catch off Carey on his ledger, and his frustration was plain to see.
Anderson went back to the drawing board and got his man for 66, forcing one through Carey's defences and trimming the bails.
Moeen Ali started up at the other end, fresh from receiving a fine from the ICC for using an unauthorised drying agent on his hands during Saturday's play. If that was an unwanted present on the spinner's 36th birthday, then things did not get a lot better as he worked through a messy spell.
A return to first-class cricket after almost two years in retirement has clearly caused some damage to the all-rounder's spinning finger – hence the spray which caught the match referee's attention. He got away with one loopy full toss but could not stop Cummins launching him for a couple of sixes as he struggled to get any purchase on the ball.
Ben Stokes began to set some highly unusual fields in a bid to knock Australia off their stride and it seemed to work when Robinson uprooted Khawaja's off stump for 141.
With a ring of catchers stationed in front of square on both sides of the wicket, the centurion tried to manufacture a blow through the covers and ended up misreading a precision yorker.
The tail was knocked over with efficiency after that. Nathan Lyon pulled Robinson straight to deep square-leg and Boland backed away visibly before popping Broad to silly point for his third of the innings. Cummins was last to go for 38, holing out off another Robinson short ball.
Duckett and Crawley made a measured start after lunch, taking advantage of Australia's cautious fields to pick up easy singles for the second time in the match.
After 6.5 overs they had moved to 26 without loss, in no trouble at all. The subsequent rain delay, and the sharp deterioration in conditions, meant things were incomparable when they re-emerged in nightmare circumstances at 3.30pm.
The rain was close, but not close enough to spare the top-order pair as Australia made full use of the assistance to claim the upper hand.
---