The Notorious one's reputation has bookmakers cautious.
Forget about names for a minute. Let's construct a narrative. An undefeated, all-conquering, four-weight world champion boxer is called out by a novice in the field. A professional athlete, but someone who has never stepped foot in a boxing ring, in a professional capacity. Now, imagine you are asked to give your predictions for this supposed bout. Would you give the plucky challenger a chance? No, most likely not.
Let's put names to a similar narrative, but in a different discipline. Michael Phelps, all 28 Olympic medals of him, is challenged to a swimming race by World Champion Triathlete Jonathan Brownlee. Again, while Brownlee is an extremely high-level athlete, would you give him a hope against the greatest swimmer of our generation? Surely not! All of this begs the question: why are bookmakers being so cautious with odds for Floyd Mayweather vs Conor McGregor? 'The Notorious' seems to have the bookmakers scared.
The man, also known as 'Mystic Mac', does have a penchant for making seemingly outrageous predictions come to life. Hell, he made this fight happen, didn't he?  His uncanny ability to pick the round he'll finish opponents in and even the exact combinations he will use, is startling.
It seems he even has the bookmakers taking heed.
Despite his inexperience, and all known logic, bookmakers have so far shelled out prohibitive odds on McGregor. So prohibitive in fact that he's been given a better chance of defeating Mayweather than five of his last seven opponents.
Betting Lines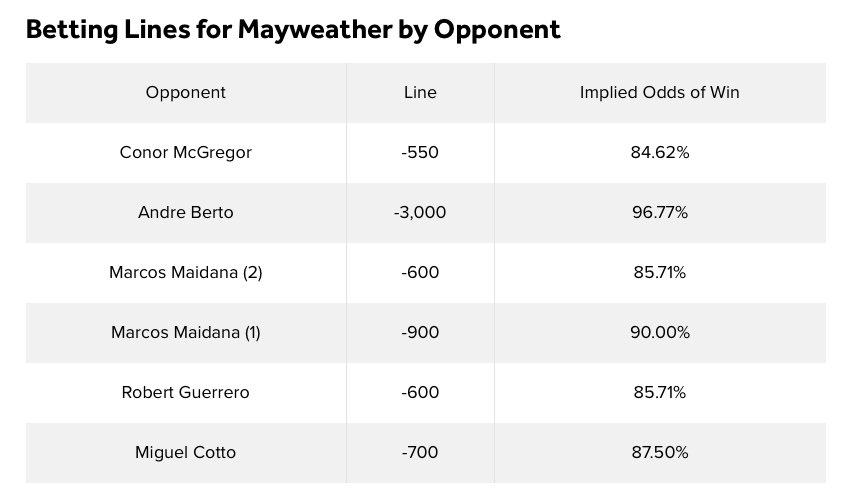 For those not fluent in Vegas odds, here is a quick conversion. -550 is approximately 2/11, -3000  is 1/33, -600 is approx 1/6, -900 is approx 1/10, while -700 is approx 1/7. So from these betting lines, Conor McGregor (0-0 in boxing) is considered a better bet at handing Floyd Mayweather his first professional loss than Miguel Cotto or Robert Guerrero. To put that in perspective, that's a former four-weight and two-weight world champion, respectively.
While we may think it would be only the most ardent of McGregor/MMA fans could see a McGregor win, it seems 'Mystic Mac' has the usually stone cold, analytical bookmakers shook up also.
At odds of just 4/1 or 9/2 by KO/TKO (from Paddy Power) they're clearly not taking any risks with the Dubliner's powers of prediction. Maybe they can see something we can't.
Noel Ryan, Pundit Arena
Read More About: bookies, Conor McGregor Floyd Mayweather, conor mcgregor latest, Floyd Mayweather Jr latest, miguel cotto, mystic mac, Paddy Power, Robert Guerrero news