Jake Wightman will not defend his 1500 metres title at the World Championships in Budapest next month due to injury.
The 28-year-old became the first Briton in 39 years to win the world 1500m title with a shock victory over Olympic champion Jakob Ingebrigtsen in Eugene last year.
His victory was even more memorable because his dad Geoff, the stadium announcer at Hayward Field, commentated on his run.
Wightman went on to earn 1500m bronze at the Commonwealth Games and 800m silver at the European Championships, but he suffered a foot injury at the start of this year and has since had shin and hamstring problems.
View this post on Instagram
He revealed he has taken the decision to miss the World Championships so as not to "jeopardise" his fitness for next year's Olympics in Paris.
"Sadly I'm going to have to wait a bit longer for a moment like this…" he posted on Instagram, beneath a picture of him celebrating his world title.
"As a result of my injury I sustained in February, I've had to deal with several more set backs as I prepared to race this summer.
"I've always felt as though time has been on my side to overcome my problems fully, however it has finally run out.
"This means I'm sadly going to be unable to compete at Worlds which has been really gutting to come to terms with.
"Although I'm very disappointed not be able to try and defend my title, my focus has to be on getting my body rested and ready for 2024, to ensure I'll be back performing at my best.
"The are some risks I could've taken to be on that Budapest start line, however the potential to jeopardise my Olympic year makes this the obvious decision.
"I'm currently taking some down time before starting my rehab, ready to be back running safely and pain free by the end of August.
"Big thanks to all my team and British Athletics who have worked really hard to try and give me every chance of competing.
"I'll see you back on the start line soon."
Wightman explained the succession of injuries he has suffered this year has prevented him from competing.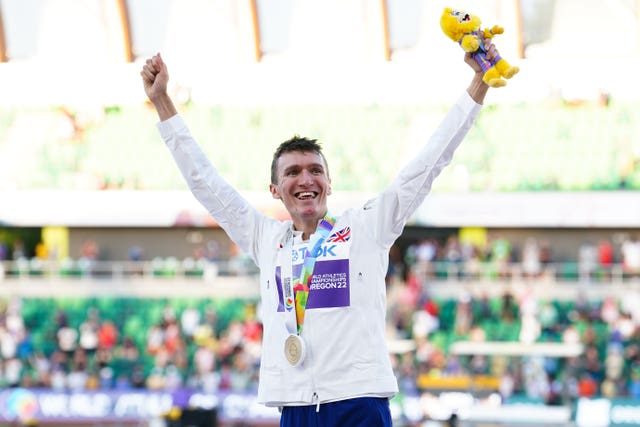 He said on the Scottish Athletics website: "After suffering shin and hamstring injuries, one after the other, I am just going to be too far off where I want to be on the start line at the championships in Budapest in August, so I am not going to be taking up my wild card as reigning champion.
"It all began with a foot injury earlier in the year which saw me miss the European Indoor Championships – and things went from there.
"It turned out to be more than just a bump in the road. After some discomfort in my Achilles from where I had been wearing the boot, I arrived in Flagstaff, Arizona, for training camp pain-free.
"However, a couple of weeks in, I got a sore shin and returned to the UK, where I picked up a bad hamstring and that was the final nail in the coffin for my World Championship hopes."
---