Kevin Sinfield set for 'incredible' day at inaugural Rob Burrow Leeds Marathon
Kevin Sinfield says Sunday's inaugural Rob Burrow Leeds Marathon is as much "a celebration of friendship" as it is a vital charity fundraiser.
Sinfield has raised over £8million for motor neurone disease charities since friend and former Leeds Rhinos team-mate Burrow was diagnosed with the condition in late 2019.
Sunday's event, plus the Leeds Half Marathon which will also take place on Sunday, is being held by Leeds City Council in partnership with Jane Tomlinson's Run For All charity and has already surpassed the £1m mark.
Sinfield told the PA news agency: "To raise money for the MND Association and the Leeds Hospitals Charity is really important, but this is also about a celebration of friendship.
"We get the chance to do it together with 12,500 people and hopefully people will come out and see us and say hello out on the streets supporting. I think it's a wonderful thing for Leeds.
"The Council have been fantastic, Run For All have been brilliant and I'm sure it will be an incredible day on Sunday."
Event organisers have been inspired to stage the city's first marathon in 20 years by Sinfield's previous running challenges.
The 42-year-old, who will be pushing Burrow around Sunday's course in a specially-adapted wheelchair, completed his Ultra 7 in 7 Challenge in November when he ran seven back-to-back ultra-marathons, running around 40 miles each day.
In late 2020, Sinfield ran seven marathons in seven days and in 2021 he completed a run of 101 miles in 24 hours.
"I've always ran in a team with the challenges that I've done, this is just a bigger team this time, so the money and the awareness we can raise for a whole host of different charities will be brilliant," Sinfield, now on the England rugby union coach staff, said.
"I'm really looking forward to it now. I can't wait to get out there on Sunday. The support has been incredible.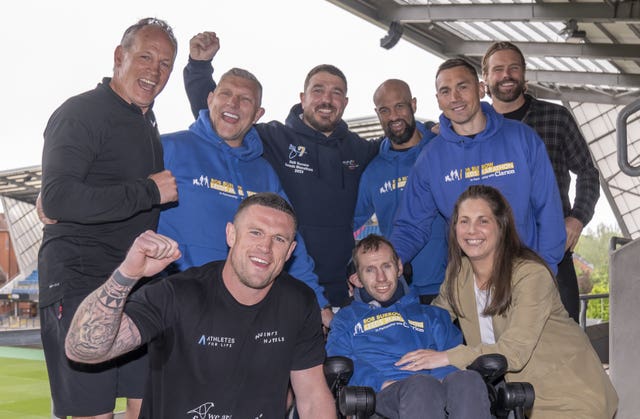 "To have 12,500 people running in Rob's name, all for different charities and causes, I think is wonderful and I know how proud Rob is of it and we'll have a good day on Sunday."
Burrow's wife Lindsey is hoping to complete her first full marathon, despite carrying a knee injury.
She told the PA news agency: "We're unbelievably proud and we just want to say a massive thank you to all the amazing runners and everyone who has supported Rob and to the crowd who support on the day as well.
"They will play a massive part of getting the runners through the event, so it's a huge heart-felt thank you to them and we hope they enjoy the occasion."
Sinfield and Burrow will be joined by former Rhinos team-mates, including Gary Mercer, Barrie McDermott, Matt Diskin, Jamie Jones-Buchanan and Luke Burgess, plus triathlete Jonny Brownlee and boxer Josh Warrington along various parts of the route.
The marathon aims to drive awareness and funds for the Leeds Hospitals Charity appeal to build the Rob Burrow Centre for MND here in Leeds, as well as the MND Association.